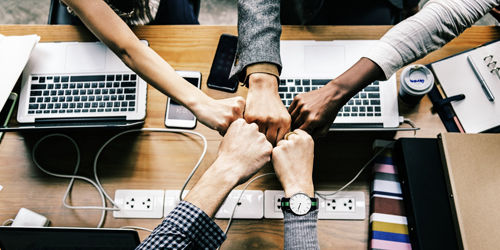 Imagine if your office didn't have a management team.
How your business operates in the field is as important as in-house efficiency. This point is especially true for distribution companies that rely on field agents and techs.
Field operations are even more complex than office management. That's why more companies are discovering the latest field service technology.
Since there are so many variables, mobile field service apps are critical industry innovations, but they don't stop there.
Discover what's ahead for mobile field service management.
Beyond Mobile
Mobile applications are revolutionizing field service management. Look out for more wearable technology to hit the scene.
Field service wearables are ideal for technicians and sales agents.
Look for wearables in the following sectors:
Biomedical
Construction
Retail
IT
Healthcare
You can sync connected devices to your cloud-based field service management system.
Hands-free devices help also reduce human errors. These trends also include augmented reality (AR) gadgets like smart glasses.
For example, smart glasses could soon display step-by-step installation instructions. This trend would be a game-changer for IT and telecom sectors. Managers could also send customer data to field reps to help close deals.
Industries are starting to use wearable technology to watch health and performance.
Analyzing health data can explain these issues:
Productivity loss
Sick days
Wellness concerns
Time management
This data could help craft wellness programs to improve field service performance.
Customer-Centric Field Service Management
Customers expect short wait times and speedy service.
This urgent need plays a critical role in customer lifetime value (CLV). It also affects customer relationship management (CRM), and reputation management.
Customer-centric field service starts with excellent communication and collaboration. This proves the growing need for mobile field service management software.
LionO360's platform lets managers generate and deliver critical customer data to field reps.
Geo-location tools also help with the following:
Servicing customers faster,
Finding promising leads quicker
Ranking customer needs by urgency
Built-in CRM tools enable better collaboration among departments and field service teams. For example, your sales and marketing departments can better align their goals to drive new accounts.
These trends prove why CRM platforms are becoming more prevalent in field service management.
CRM-based field service management platforms also help leaders set and track KPIs. KPIs improve for customer satisfaction, centering the customer at all times.
Maximizing Safety
Distribution companies are putting a greater emphasis on security. Expect more investment in field agents' safety.
One such tool gaining steam is geolocation tracking for field service management.
If a safety issue arises, managers can quickly inform the company, pinpoint the location, and deploy help to the area.
Reporting features also improve safety.
Agents are required to log visits, keeping an accurate record of agents' activities. Performance reporting also helps managers identify areas of improvement for safety.
The Rise of Freelance Field Service Agents
Freelancing and gig work is also transforming the field service landscape.
This trend exploded as more companies quickly transitioned to remote work models. Both of these factors make mobile field service management software even more crucial in 2021 and beyond.
Freelancers are 1099 contractors. They don't keep the same fixed schedules as typical employees.
Companies need tools that enable efficient flexibility. This change isn't possible without automation.
Mobile field service technology automates tasks for instant job claiming, dispatching, and invoicing. You can supply steady field service work while scaling your distribution business at a lower cost.
Data and feedback are also essential for managing an efficient freelance field agent team. That's why LionO360 lets managers create and send important questionnaires to field agents.
Feedback improves the following:
Field service processes
Job roles
Service delivery
Customer experience.
Increase in Home Equipment Service Calls
2020 confined more than 40% of working professionals to their home offices. Further research suggests that fewer people are willing to go back to the cubicle, preferring remote work.
Many companies are also enjoying the cost benefits of this trend.
This shift in work culture is generating more calls for the following services:
Computer repair
Home appliances
Power supply
Internet
Home plumbing systems
Home health technology
Companies must respond to the growing influx of field service requests for homes. Managers need tools that handle unlimited service requests. They also need to automate appointment confirmations for customers.
LionO360 software effectively manages the influx of new customer accounts.
Reporting features identify areas of improvement for employee productivity and customer lifetime value. For example, managers can see how long each service call takes, generating an average to exceed moving forward.
Predictive Maintenance for Mobile Field Service Management
Timing is everything in field service management.
A medical technology distribution company must respond quickly to failures.
A hospital can't afford a system shutdown when lives are on the line. Hospitals must also prepare for an influx of patients at any given time, requiring even faster and efficient field services.
Predictive maintenance monitors the following:
System errors
Aging equipment
Power supply
Cybersecurity concerns
Deployment
Time use
Field service managers can use these metrics to create predictive maintenance strategies. These strategies reduce performance errors dramatically.
There is a new urgency for predictive maintenance, and field service technicians play a pivotal role.
Field technicians must respond even quicker while following health guidelines.
Service technicians need reliable geo-location tools for accurate customer data and fast communication.
Predictive maintenance metrics also identify problems before they occur. Managers can dispatch field technicians even faster to job sites.
Improve Field Service Performance Today
The future looks bright and busy for mobile field service management. Remember to keep up with the latest trends to refine your field services in the new year.
Are your customers being serviced as quickly and efficiently as possible?
Contact us today, or sign up for a 30-day free trial to discover the benefits of LionO360 for field service performance.