What Sets LionOBytes Apart

All-in-one platform
Offering an all-in-one LionO360 platform to manage your processes from CRM and ERP to Field Service Management altogether.

Fully cloud-based
Fully equipped cloud-based solution enabling data centralization, ensuring process collaboration, and streamlining operational efficiency.

Highly adaptive solution
With built-in ultra-modern features and a scope of high-end customization, LionO360 platform can be personalized as per your unique business needs.

Better fit your needs
We configure a solution that better fits your distinct needs, enabling scaling opportunities, and supporting your innovations to drive optimal growth.

Start with a free trial
Start your free trial with LionO360 and once your trial period is over, continue with your suitable pricing model starting at the lowest.

Worthwhile Support
LionO360 provides adequate support to enable a high-performing environment at your workspace and effectively drive business continuity.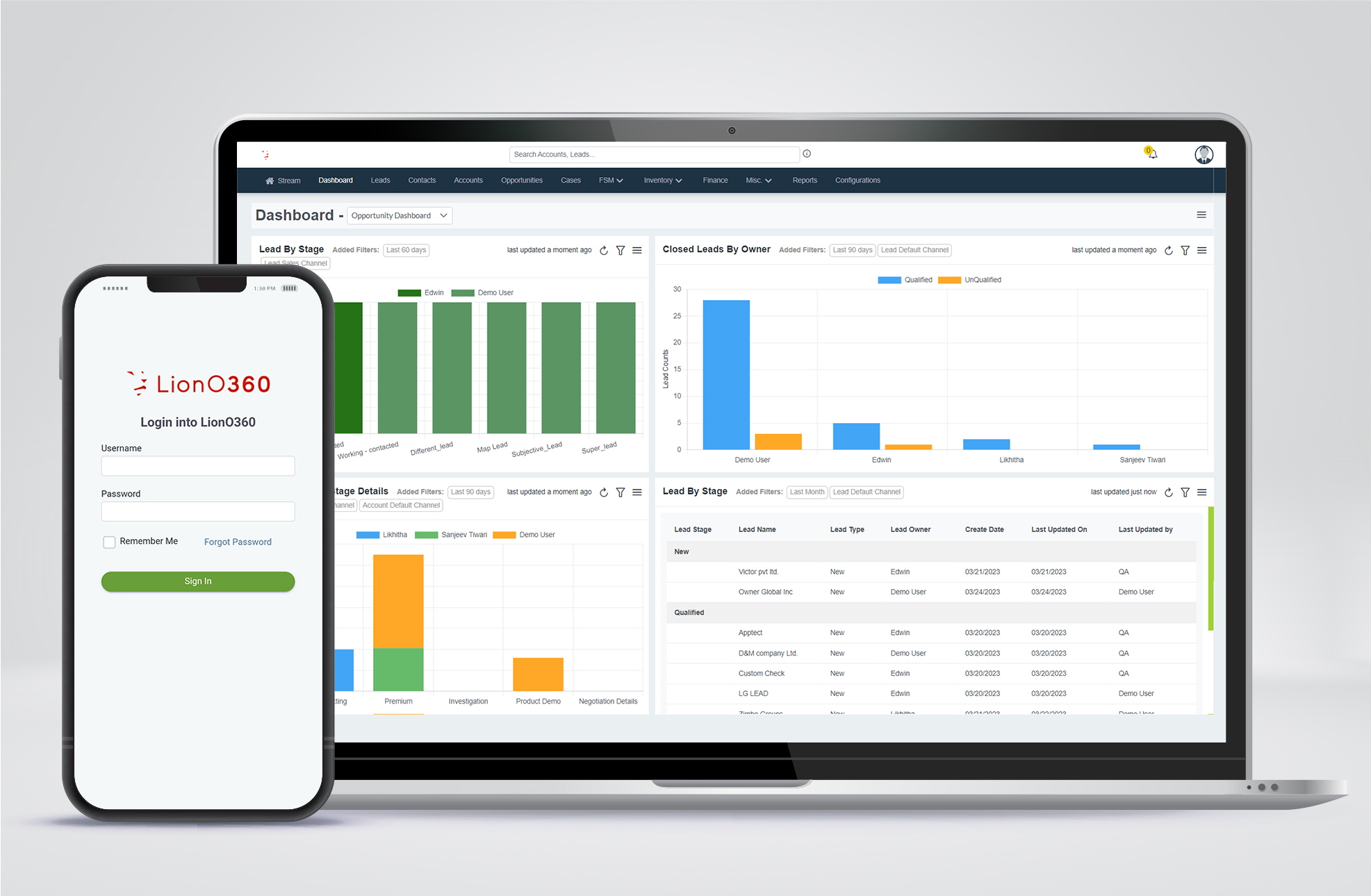 Connect to Maximize your Business Efficiency
Unfold your business capabilities, discover your scaling opportunity, and reveal your growth potentials with our all-in-one business solution.
Or call us
+1 609-281-5272
AWARDS
Welp Magazine
"The best CRM systems for your small business 2019"
CEO World Awards
"Startup of the Year | Technology Services - GOLD WINNER - LionOBytes | Princeton, NJ USA | Disrupting CRM market with LionO360 platform"
Network Product Guide IT World Award
"Startup of Year | Information Technology Software - GOLD WINNER – LionOBytes | Princeton, NJ USA | The launch of its flagship CRM solution, LionO360"

One of the best field management resources out there and so much more! Mobility features help me track, measure and monetize the effectiveness of our field teams. Using LionO360, I can easily see orders processed from Warehouse to our Dealers. Our district leaders have easy access to customer information, activity, store visits, and performance. Stops the need from carrying a laptop in store. AMAZING efficiency!
Gloria M.
Designation: CCO

Company Size: 100 – 499

As a user of LionO360 for over 3 years now, I am impressed by the exceptional value this product offers, reduces monthly costs for managing my field operations. Best part is that it's natively integrated with my Sales Operations, Inventory, and Finance parts of the business that allows me to run my operations efficiently. LionO360 platform is futuristic, their constant innovation and feature releases help to enhance our productivity.
Riaz G.
Designation: Director of business development

Company Size: 1 – 25

LionO360 is a super easy-to-use, highly configurable CRM alternative for those of us running small to medium size business operations. It's cost-effective, nimble, and very different from other legacy clunky and overly complex platforms I've used, so far. It can be implemented in minutes, plus it offers a great mobile application with an easy-to-use interface for a seamless omnichannel experience.
Mike F.
Designation: Director of Sales

Company Size: 26 – 99
WE ARE COMMITTED
TO YOUR SUCCESS