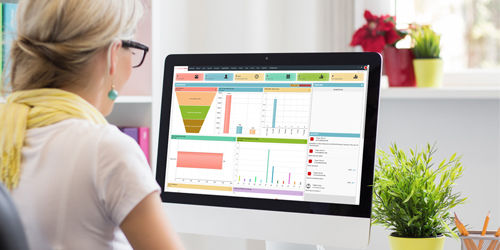 When it comes to growing a business, customer relationships are everything. Good communication with your customer's forms relationships and customer loyalty.
Today, many customer relationships are formed online, through email, phone, or chat box communication. Since there are so many avenues of communication available, keeping track of each customer becomes more and more difficult.
That's why CRM (customer relationship management) software is so important for businesses of all sizes.
What Is CRM 360?
CRM 360 is a way for companies to track every aspect of a customer's experience. This 360 approach makes it so a customer's experience is unified across all departments.
You can have easy access to individual leads, orders, and shipments, along with every customer interaction in between.
How Does CRM Work?
CRM software functions in a way that allows you to track certain customer touch-points along with their experience.
Customer leads. CRM software allows for marketing teams to manually enter or automate potential customer information. This information includes how they came into contact with the customer, their social media, and the customer's contact information.
Marketing automation. Once marketers acquire leads, they can use CRM software to automate email offers or push social media posts.
Analytics. CRM software tracks customer interactions and provides insight into what may or may not work to market to them. It also helps to see where along the sales timeline needs to be improved.
Artificial intelligence. You can use AI to follow patterns that customers create. For example, certain age-groups may respond to a different marketing tactic than others.
Customized customer experience. By using the information gained through leads and analytics, you can create individualized customer experiences based on previously gained knowledge about them.
Use CRM to create a more competitive business model and improve customer relations through better management.
Why Use 360 View?
Of course, there is no questioning that CRM software gives you more information about your customer base and gives you a marketing edge.
Using a CRM 360 view improves customer experiences. But it also improves customer loyalty, provides accurate analytics and helps to streamline your marketing tactics to suit your target audience.
1. Use Data to Improve Customer Experience
Every customer generates a huge amount of data. With CRM software, that data is easy to access and translate into a productive train of events. That way, anyone who interacts with the customer has a clear understanding of their needs and concerns.
This saves customers from having to explain their case over and over again. And it helps customer service representatives have more satisfying and productive interactions.
2. Seamless Customer Service
Many times, customers interact with different departments throughout their experience. For example, they may purchase a product through a sales team member. Then, the customer may need support from a technical team member or require a return through another customer service representative.
With CRM 360, each representative has the same customer information in front of them. This availability of information creates a more personalized and streamlined experience for the customer.
Seamless customer service makes it so problems and concerns get addressed quickly and without needless confusion.
3. Predictive Analytics
By keeping records of customers' previous actions, you're better able to predict a customer's future actions. With CRM software, you can determine what a customer is likely to look for next or how you can expect them to behave given certain prompts.
For example:
Why might they leave something in their cart?
At what point in their customer journey do they show dissatisfaction?
What patterns do they show when they purchase something?
By analyzing customers' past data, you're better able to understand what moves them to make the decisions they do. Then, you are better equipped to give them a more satisfying experience.
4. Marketing Costs
Businesses put a lot of money every year towards marketing campaigns. The best way to use marketing is with current customer data and reports.
You can use CRM software to get the most accurate statistics about your current customer base and get predictions on what kind of marketing strategies would be successful.
5. Scale as You Grow Your Business
With CRM software, you can cater to teams of one or two or hundreds. The software grows as your company grows.
Sometimes when a small business experiences a lot of growth, they don't have the tools to meet the needs of their customers immediately.
By using a CRM, you can adjust how you manage customer relationships throughout your company's growth.
Best CRM for Small Business
Small businesses rely on their customers more than any other business. If not for customer loyalty, then growth would be impossible.
For that reason, it's even more important for small businesses to have a reliable customer relationship management method.
LionO360 CRM works to streamline how you manage business processes and customer relationships.
LionO360 CRM offers:
Lead Management
Accounts Management
Opportunity Management
Contacts Management
Goals and Forecasting
Document Management
Customer Service Management
Workflow
Field Service Management
Inventory Management
By utilizing CRM software, you can have all the information you need in an open place to give customer's a personalized experience.
Improve your workflow by using a single software for business processes. Don't spend any more time searching for a customer's folder or trying to find your next lead.
Easily integrate LionO360 with your existing applications. Our CRM software is compatible with OneDrive, DropBox, Google Drive, Microsoft 365, and Quickbooks.
Try LionO360 CRM Free
We understand that starting with a new CRM software is a big change and commitment for your entire company.
That's why we offer a free, no-obligation 30-day trial, along with a demonstration and consultation. It's our goal to make sure our clients get the most out of our software.
Schedule a one-on-one demonstration today to discuss how LionO360 can help grow your business.