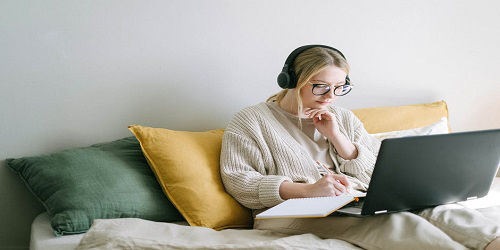 Successful lead management involves converting more leads into successful sales opportunities. Modern-day sales managers work to capture the most value from these new and existing leads with the help of CRM lead management software.
In fact, 78% of B2B sales managers use lead conversions as a measure of success.
We're not trying to imply that your sales management strategies are unsound if you do not use CRM software. Many small businesses still thrive from using manual data collection methods for their early stages of growth.
With the advent of any growth spurt in any business comes the need to organize and manage more customer data and information. This is where CRM lead management software can play a pivotal role in improving your current lead management sales strategy.
If you are ready to better organize your lead management process as a growing business, then we have the information you need ahead.
What Does Effective Lead Management Look Like?
You risk losing sales opportunities if you are unable to manage the increasing growth of your lead generation. This is due to organizational issues vs. sound strategy. The more information and data you collect, the more difficult it will become to manage it.
Having an outdated lead management system can result in the loss of lead information. It can also cause duplicate data entry and mismatched sales representatives. Not to mention lost follow-up appointments and dreadful response times.
Here is how a great CRM system can help you solve these problems for your growing company.
You will want to align your sales & marketing efforts. Work to define what metrics verify the success of your sales process upfront. Map out the process and know when to hand off tasks between marketing and sales team members.
Organize your leads in one place. You can import outside lists into a CRM or enter them manually. You can connect social media accounts to your CRM to collect leads automatically, too.
Update and clean your data regularly. You don't want unsuccessful leads cluttering your database. You don't want leads that have been converted to customers taking up space in the wrong dataset. Stay organized by updating and cleaning this data.
Have a system in place to manage your leads. For example, you can focus on your leads with a score or color-based system that assigns them to a representative.
Track your lead-generating efforts. Use reports, dashboards, campaign data metrics, and lead generation source tracking. Whatever data you need to gain insight to improve your sales process.
Think you need to develop a new sales management process? Then we have some great tips for you to do just that.
Develop Your Own Sales Management Process
Once you can formalize managing leads for your business, choosing the right CRM software becomes easier. You will soon find that you can easily automate specific steps of your process already.
With 68% of B2B vendors believing that customer data management is the main driver behind business growth, you need a process in place.
You can gather data and insights that will point you towards making improvements to your process. You'll be shown where your largest opportunities to improve efficiency are within your sales funnel.
Here are five steps to help you develop your own sales management process:
1. Document Your Lead Management Process
2. Work to Refine Your Process
3. Make This Your Lead Management Strategy for Everyone
4. Measure and Analyze Your Lead Management Performance
5. Adjust the Lead Management Process as Your Business Changes
We hope that you can develop your own sales management process if you don't have one already. We will help you with more information ahead about how CRM lead management technology can further assist you.
How Does a CRM Lead Management System Help You?
Any great CRM lead management system should perform several basic functions for your business. These essential functions for your business should include:
Manage new leads from start to finish throughout the sales funnel
Delegate leads and tasks to any salesperson on your team
Prevent the loss of leads from any point within your sales funnel
Advise members of your sales team that they missed a task
Prompt sales team members to keep meetings and appointments
Produce reports according to predetermined data sets
Record information that can be used to help with sales conversations
Help your sales representative identify pre-qualified leads
Reduce response time for gathering information for new prospects
Let's take a further look at when you should invest in a CRM lead management system for your growing business.
When Should You Invest in a CRM Lead Management System?
The right CRM lead management software allows for everyone on your sales and marketing team to work together. Your sales representatives and managers can communicate with sales prospects, view new leads, update files, create reports, and manage your sales pipeline from one dashboard.
This creates an organized yet adaptable location for any small to medium-sized business to automate its lead management efforts like a large competitor would.
Another remarkable aspect of a CRM lead management system is that you can track leads that have not yet become paying customers. In addition, you can organize every lead into a category according to your sales process. This allows you to know which part of the sales funnel your leads are currently in.
This will allow anyone on your sales team to follow up with a lead anywhere in the funnel and know precisely where to pick up the conversation. A new lead will appreciate you not wasting their time with information they already received.
An investment in lead management software will make it easier for your sales team to focus on what they do best—communicating with future customers without facing embarrassing miscommunications.
Don't Miss Another Sales Opportunity Again
Lead management software will become a necessary and helpful tool to help you automate the sales process for your growing business. Choose a quality CRM technology as the focal point for all of your future business sales strategies. You'll soon discover that your overall sales process becomes easier and more effective.
When your ready to make the switch, browse our website for information and contact our team at LionO360 to discuss how we can help your business grow with CRM technology services.