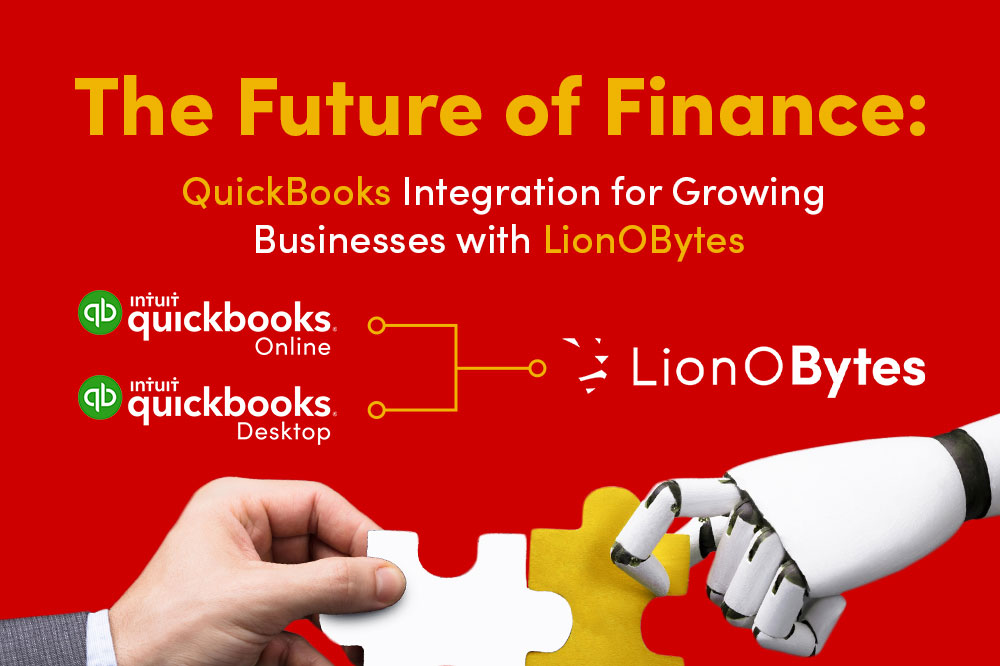 We are already aware of the term – "Running business anywhere, anytime, using any device". We often consider this statement when it comes to cloud or SaaS-based business solutions like ERP (Enterprise Resource Planning), CRM (Customer Relationship Management), FSM (Field Service Management), Finance/Accounting, etc.
Again, using disparate or disconnected systems while managing your finance or accounting part may not help you streamline your financial operations. Here, the mere solution that can help you improve your system capabilities is- integrating your business platforms like ERP/CRM with your finance/accounting solution.
Yes, we are talking about how QuickBooks Integration with your ERP or CRM business solution can make a difference all through by synchronizing, accessing, and leveraging the data between both these systems. Such data could be customer details, estimates, sales orders, invoices, purchase orders, bills, and more.
Leveraging this system integration can help businesses maximize their business capabilities, improve their workflow, and increase process efficiency while keeping an eye on each of their financial activities. And this is the reason why growing businesses across domains are taking recourse to ERP and CRM with QuickBooks integration.
And yes, there is no doubt that this adoption will take a lope in the coming years to impact their financial capability and uplift their efficiency.
So, before we turn this blog's flow toward the future of finance and how LionOBytes can help growing businesses with their seamless and customized QuickBooks integration, let's get aware of market consideration and adoption of QuickBooks integration.
Here Statista includes- In the year 2022, the worldwide market spend on QuickBooks is over 3.5 million USD in terms of selling and marketing. Further, this expenditure was recorded at 1.4 billion USD in the year 2017. So, this stat reveals the continuous growth of QuickBooks in the worldwide market.
Since both the QuickBooks and CRM/ERP solutions work parallel, let's also get aware of the worldwide revenue overview of CRM software.
According to Statista's market report, the CRM software market is forecasted to grow by 52.5 billion USD between the period of 2023 to 2028 and by the year 2028, it will be increased to 131.88 billion USD for the 5th consecutive year.
Here is an image depicted below sourced from Statista revealing the growth journey of CRM market adoption.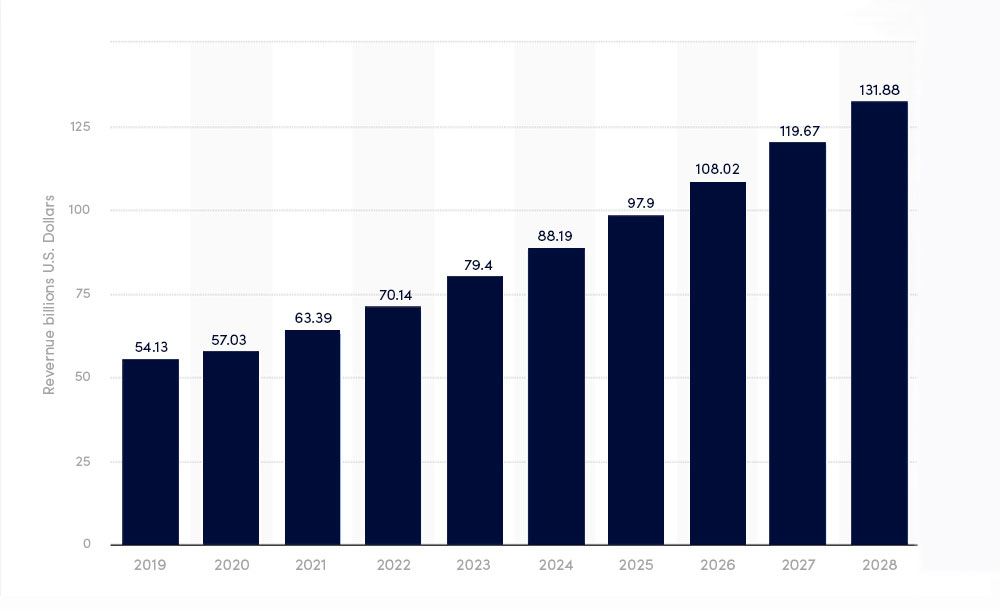 Data Source: Statista Website
After getting the market overview and growth of QuickBooks and CRM business solutions, let's imbibe the future of finance with QuickBooks integration with customer relationships or enterprise business solutions.
The Future of Finance
Considering the steadily growing needs of cloud-configured enterprise solutions, AI intelligence, and process automation, it can be clearly said that the future of finance or accounting is not a standalone concept.
To automate and streamline your finance and accounting practices, it becomes crucial to integrate your QuickBooks system with cloud-based business solutions customized and configured to serve your business needs.
Thus, moving ahead how to perceive the future of Finance when integrated with cloud business solutions. Here are the potential ways revealing the enhancements and process collaboration to streamline and automate the flow of finance and accounting practices.
Advanced Automation
As we can see continuous enhancements in automation practices and thus, advanced automation practices will take place. And this can be achieved by leveraging AI (Artificial Intelligence) and ML (Machine Learning) algorithms.
Integrating your QuickBooks and CRM/ERP system equipped with AI and ML capabilities, you will be able to automate even complex finance & accounting processes, minimize manual practices, and ensure accuracy during reconciliation.
Real-Time Insights
When it comes to real-time insights, gaining predictive analytics, real-time financial & customer data is a crucial need indeed for businesses these days. These real-time insights can help your growing business to forecast trends, identify sales opportunities, and to make informed business decisions.
Configured with advanced analytics tools, your ERP or CRM integration with QuickBooks can help you with instant financial reports, customer insights, and other metrics.
Collaboration & Communication
Seamless collaboration and communication between your sales, marketing, finance, and customer support team is vital. Sharing customer data when required can help improve the support to the customers and ensure improved customer experience.
Moreover, a consolidated view of financial data and customer insights can help you make informed decisions in real-time, helping build customer loyalty and impact your revenue growth. To ensure so, you need to have connected systems i.e. integrated QuickBooks and ERP/CRM solutions.
Security & Compliance Management
Having a secure system can always help you focus on the growth part. To ensure the security and integrity of your financial transactions, you must have a system comprising high-end security layers to provide security and authenticity of your financial transactions or records.
Moreover, complying with industry and security standards will be a must-have aspect to support the future anticipations of QuickBooks integration for your growing business. Facilitating automated compliance monitoring and real-time alerts will help businesses to prevent legal issues and associated penalties.
Customer Centric Configuration
To gain a holistic view of customers' data such as their past interactions, buying history, payments they made, etc., the market will anticipate a finance system to serve customer-centric solutions. Here it is essential to integrate QuickBooks with ERP/CRM solutions having the capability to serve customer-centric solutions.
Here, AI-powered Chatbots can help you drive a smoother customer experience. Leveraging this tool, businesses can level up their customer experience by resolving customer inquiries, processing their payments, and instantly providing them with the information required.
QuickBooks Integration for Growing Businesses with LionOBytes
Considering your current system needs and reinforcing your growing business functions, LionOBytes serves seamless, secure, and scalable QuickBooks integration with LionO360 CRM and ERP solutions. We perform seamless integration while mapping fields like Accounts & Contacts, Estimates, Sales Orders, Purchase Orders, Bills, etc.
With two-way synchronizing facilitation, people in your organization can have the flexibility of using their preferred systems. You can leverage reporting in both your LionO360 and QuickBooks accounting systems.
Our LionO360 and QuickBooks system allows your sales & marketing team to work using your LionO360 account while your accounting users can leverage QuickBooks. However, both the users can synchronize from and leverage data of both the systems using their preferred one.
Thus, our system makes it easy to fetch and access accounts from the LionO360 system using the QuickBooks account or access/process the invoices/sales orders using the LionO360 account which is created in the QuickBooks account.
Further, whether you want to keep your information on the cloud with QuickBooks online or stay with QuickBooks Desktop, we can integrate your system accordingly.
To understand how QuickBooks integration can help you support your growing business functions and improve your business capabilities, talk to our experts. We can help you integrate your system in the optimum possible way.