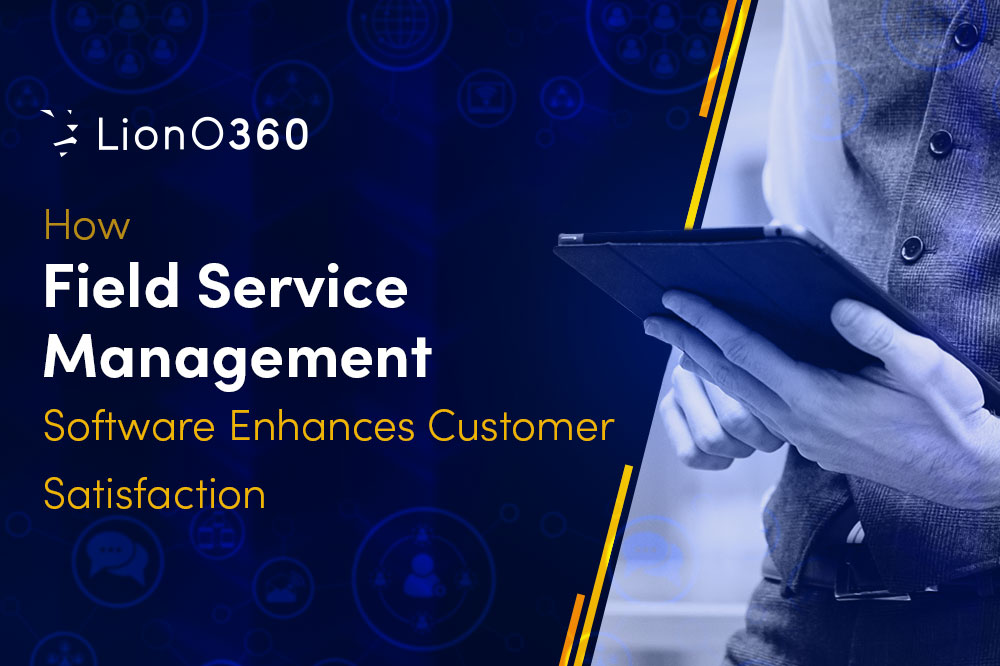 Do you know a single lack can disappoint your customers and can even affect your customer retention rate? And these days ensuring customer success won't be a possible deal without adopting Field Service Management Software.
Moreover, if your customers are continuously complaining about issues or witnessing delays, and your system is unable to handle your customer requests and their anticipations, they may stop hiring your products or services, and you might start losing your customer base.
When your business is at a growing stage, managing field operations could be more challenging as you cannot keep your customers waiting. However, modern customers believe in quick responses and get frustrated when they do not get the right service/support at the right time even from well-established market leaders.
Thus, today's customers are more likely to seek a competitor if they fail to get a quality-assured deal in a timely manner.
Considering this behavior of modern customers, several technological innovations and solutions are being discovered and adopted by almost every scale of organization. Further, this encouraged and transformed the market from paper-based field solutions to SaaS-based solutions wherein people, data, and processes remain connected over the cloud.
Thus, one doesn't need to remain dependent as the processes can be automated, data can be visualized as well as leveraged in real-time, and people can communicate seamlessly using mobile devices equipped with Field Service software or solutions.
Further, when AI- (Artificial Intelligence), ML (Machine Learning), and IoT-based business solutions came into existence, the FSM vendors started developing AI-based field solutions to drive effectiveness in your field operations and reduce associated costs.
But yes, these technological inclusions and adoptions helped the organizations to understand their customers' needs and wants they anticipate from their business solution vendors. So, let's have an overview of how leveraging Field Service Management solutions can increase customer experience.
How Field Service Management Software Enhances Customer Satisfaction
Enhancing your customer experience is directly connected to technological solutions that you imbibe to simplify your end-to-end field operations and maximize your field capabilities. Here, we are unfolding the potential ways enabling you to level up your field operation management which in turn helps to increase your customer experience. So, it's time to roll our eyes on:
Automated Scheduling
Facilitating your system with automated scheduling can empower your field team to effectively manage and control their field operations. Automation in your route scheduling can help you create the best potential route that can save your field executives time, energy, and fuel costs. This will help your field executives to reach the customer's location on time as well as serve the best part to them.
To understand this better, let's include a use case!
When your field executives follow the manual way, they may not be able to choose efficient routes, and this can be a result of delaying customer visits and scheduled appointments. Eventually, it could result in customer dissatisfaction as modern customers are more likely to switch to your competitors when they do not get on-time solutions or support.
Once you implement Field Service Management software in your system, you enable automated scheduling that allows your field representatives or technicians to follow the automated routes that are efficient and ensures on-time visits to the customers without keeping them awaited. This helps improve your customer experience.
Data Centralization
Implementing field service management facilitates people in your organization with a centralized database which means everyone will be accessing the same data in real-time whether it is your field team or back-end team. This ensures accuracy and efficiency across your field practices.
Instead of manually assigning questionnaires to perform customer surveys, you can even automate your questionnaire management eliminating the need for paper-based questionnaires that could be annoying to the 21st century of customers.
However, with the help of FSM solution, you can prompt questionnaires once your executive reaches a customer location. Now, once your executives get the questionnaire filled in by customers and submit the same in the system while being in the field, questionnaire feedback can be seen by their associated managers in real-time.
Therefore, you are enabling your field executives to focus more on listening to the customers instead of struggling with paper-based manual questionnaires. Using this way, your customers will feel heard and understood which in turn helps you acquire customer loyalty.
Automated Workflows
Transforming your workflow from manual to automated can make a difference indeed in terms of increased efficiency, improved productivity, and enhanced customer experience. And this can be achieved by upgrading your system with AI-configured field service capabilities.
Automation in your workflow can free up your resources from redundant tasks as well as enable them to focus more on listening and resolving customer issues, working on their feedback, and serving them when they are in need. So, let's explore how automated workflow in your field operations can optimize your field operations.
For instance, your field representatives can know their assigned field tasks using their mobile devices. They can even start visiting customers directly from their homes and after performing their last customer visit, they can submit their performed field activities using their mobile phones configured with Field Service Management software.
Here, automation in scheduling and routing the customer visit can help by scheduling their very first and last customer visit near to their home. This helps maximize your field workforce productivity while eliminating the need to visit the office to gain assigned tasks.
Moreover, enabling automated workflow also improves the productivity of the field managers by eliminating their field visits by up to 80% as they can track and monitor every field activity remotely using a Field Service Management solution and can focus more on improving the customer experience.
Thus, if you are managing territories in global locations and need to control field operations remotely, adopting smarter business solutions like Field Service Management is a must-have deal for your growing business.
Collecting Customer Feedback
Collecting customer feedback on a regular basis can enable you to identify your customer needs, pain points, and their anticipations. Based on their feedback, you can improve your product, service, and support offerings, helping you acquire customer loyalty and ensure customer retention.
Moreover, by leveraging customer feedback, you can identify trends & patterns enabling you to serve a personalized deal to your customers which in turn helps you increase your customer experience.
When it comes to the LionO360 Field Service Management solution, our system enables you to perform customer surveys leveraging digital questionnaires that are created by the field coordinator or territory manager using the web version and can be visualized by the field executive using the mobile version.
And the beauty of our system is that the questionnaire will be prompted merely once the executive checks in to the customer location. Thus, based on questionnaires filled in by customers, you can improve your products and services and effectively work on their issues or expectations to enhance their experience.
Real-Time Tracking & Monitoring
To give a better experience to your customers, your system should be capable of tracking your field executives. For instance, while checking in to or checking out from the customer location, submitting questionnaires filled in by the customers, submitting work orders created as per customer request, and more.
When you can track all such field activities, you can ensure whether your field team is working with dedication or not. Further, your field team's work efficiency is directly associated with customer experience. Thus, you can monitor your field activities in real-time ensuring enhanced customer experience.
In addition, when it comes to LionO360 Field Service Management software, our software enables you to track and monitor your end-to-end field activities or field team's performance. You do not need to be worried about whether your executive visited the customer location/store as our system will ask them to register their check-in once they are within specified miles of range of the customer location.
Enhance Your Customer Satisfaction with LionO360 Field Service Management Software
Enhancing customer experience can ensure the way to success for your business especially when you are at a growing stage. Therefore, it becomes inevitable to keep improving your customer experience and support your growing business needs.
And yes, you cannot deny the continuously evolving service industry wherein businesses are struggling to serve better to their customers. If you deny, you may allow your competitors to win the race.
Thus, investing in tools and technologies has become a vital need to work on the bottom line especially when it comes to managing field operations. Here at LionOBytes, we provide foolproof LionO360 Field Service Management Software for growing businesses to efficiently carry out field operations, uplift customer experience, and maximize growth potential.
To understand how our LionO360 Field Service Management Software can help you improve your customer experience. Let's get introduced to some of the features of LionO360 FSM.
LionO360 Field Service Management Software could be a proven FSM Software for growing businesses. It enables you to control and effectively drive your field operations from managing global territories to automating route scheduling, tracking & monitoring field executives when they are in the field, performing customer surveys to even tracking and connecting with nearby available customers. You can also gain field insights in real-time and can make informed decisions favoring your customer experience.
To know more or to have an in-depth overview of our FSM software in terms of how it works and how it can enhance your customer experience, talk to our experts today.