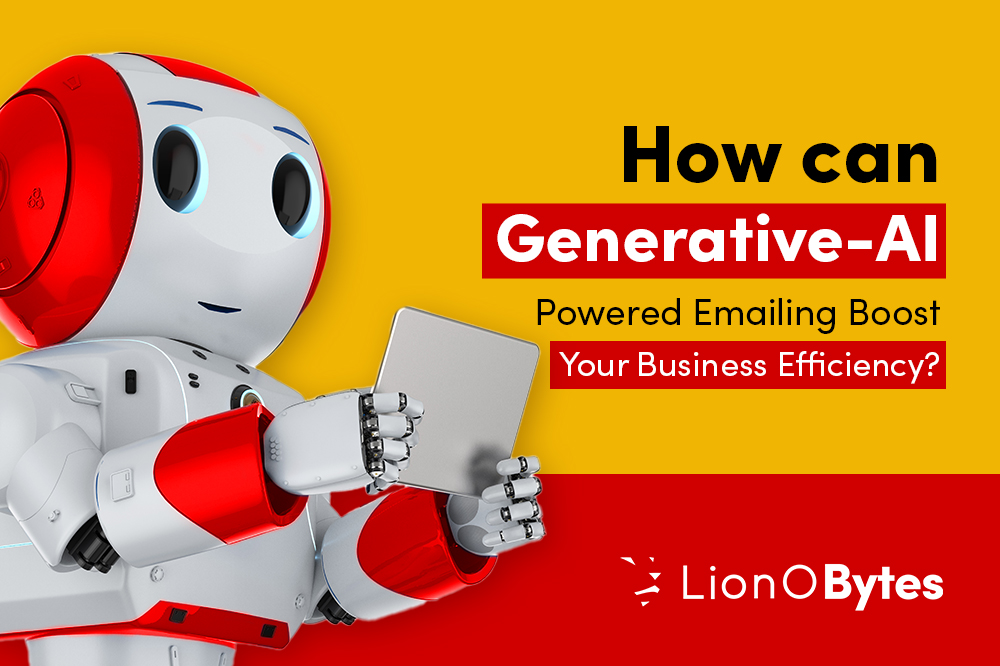 Well, you can't deny the continuous evolution of AI (Artificial Intelligence) and when we talk about AI, generative AI never remains untouched. Whether to write AI-generated emails, create customer-appealing graphics, prepare training data, generate content, or translate one language to another, generative AI always comes into the picture.
Considering the current market needs and to increase workforce productivity wrapped with efficiency, businesses are seeking to drive machine-human collaboration. Here, generative AI reserves its vital place.
Almost all the business domains have started leveraging generative AI to fulfill their distinct business needs and carry out goals. Such needs include achieving augmented intelligence, supporting customers through personalized AI assistants, and generating data to support marketing & sales campaigns.
According to Statista's insights, the generative AI market is expected to grow and reach up to US$ 207.00 billion by 2030 at a CAGR rate of 24.40% for the period 2023 to 2030.
However, this growth imbibes a long journey of market adoption. Initially, Generative AI came into existence in the year 2010 in the form of a language translator. Later, it became capable of understanding the meaning of words in natural language.
By the year 2022, advancements made in terms of large language foundation models, and later, to serve conversations large language foundation models help to generate content and converse through. The reference image depicted below from Gartner reveals rest of the things: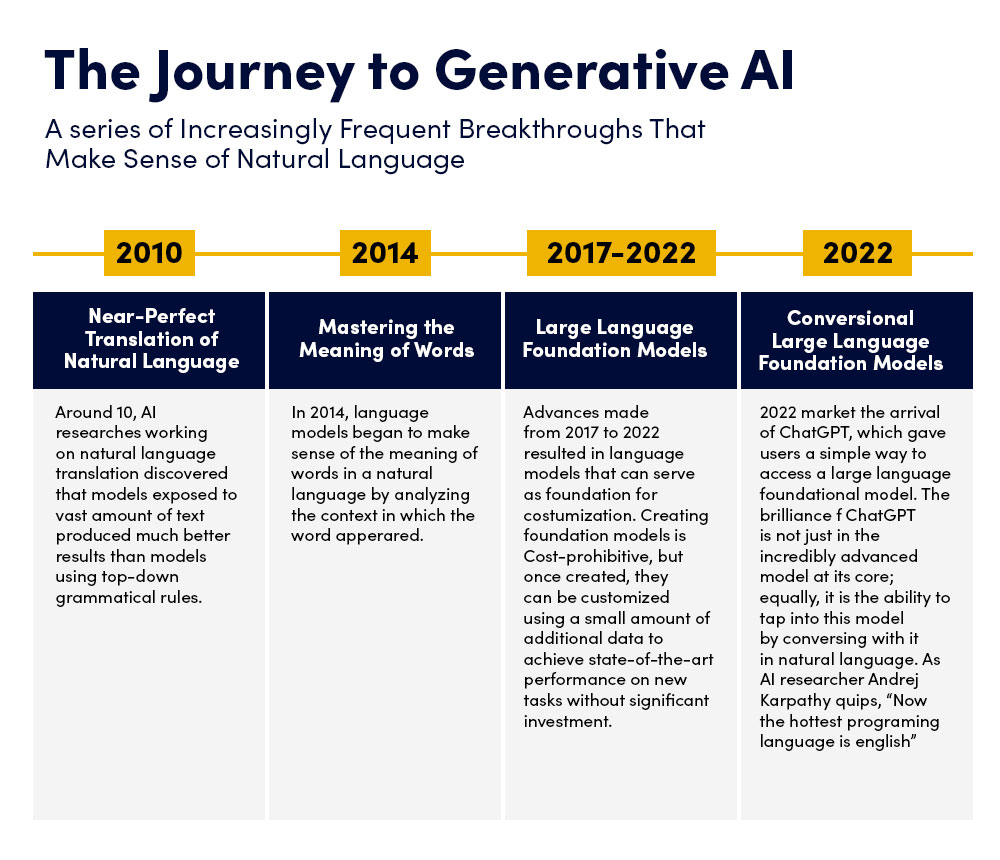 Data Source: Gartner Website
Out of this whole, you need to understand why generative AI is being considered by the market. Whether to acquire information, generate content & graphics, translate the language, etc. Generative AI is being leveraged by growing businesses and in business applications such as CRM (Customer Relationship Management), ERP (Enterprise Resource Planning), and FSM (Field Service Management).
Generative AI manifolds several benefits including improved customer experience, increased workforce productivity, reduced costs, and more. To support this statement, Gartner enlightens the market approach and consideration to invest in Generative AI. Here is a reference image sourced from Gartner: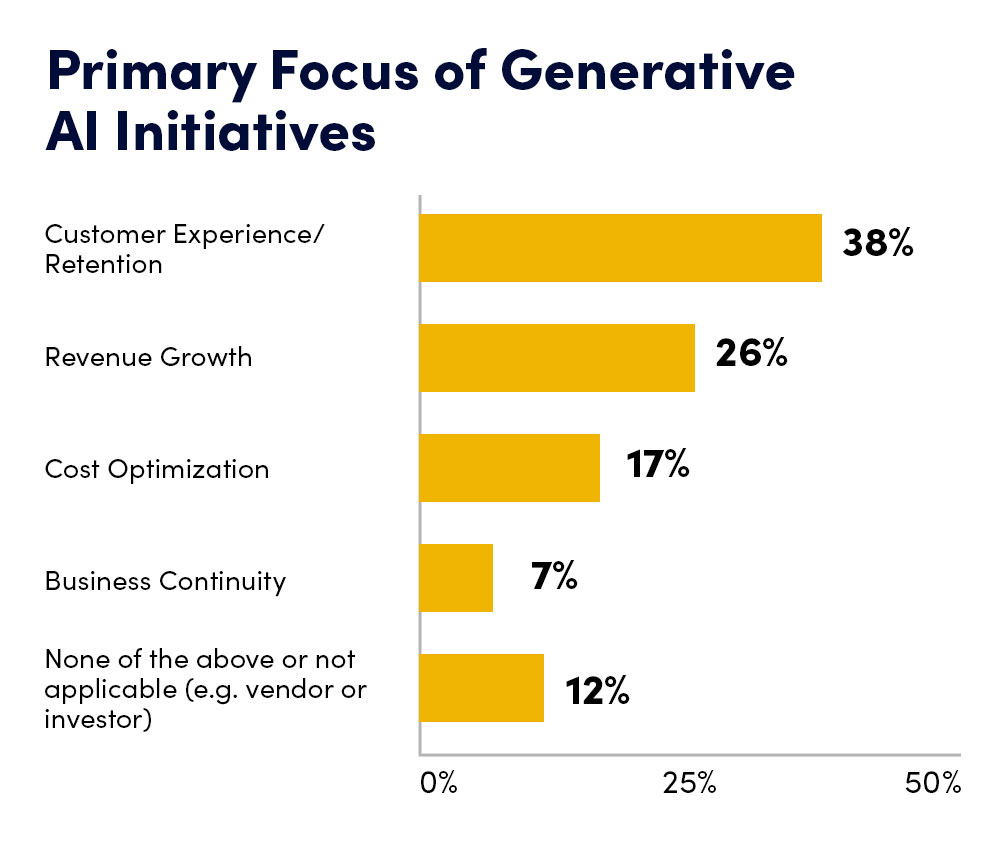 Data Source: Gartner Website
Further Gartner continues with its survey that 63% of marketing leaders are more likely to invest in generative AI within 2-years.
Out of this, it clearly depicts that businesses are investing more in generative AI to improve their customer experience and increase their customer retention rate. When it comes to taking recourse to generative AI, AI-powered emailing ensures a crucial role in acquiring so.
Here Statista includes the data of sending and receiving emails per day worldwide from 2017 to now and what is expected by the year 2026.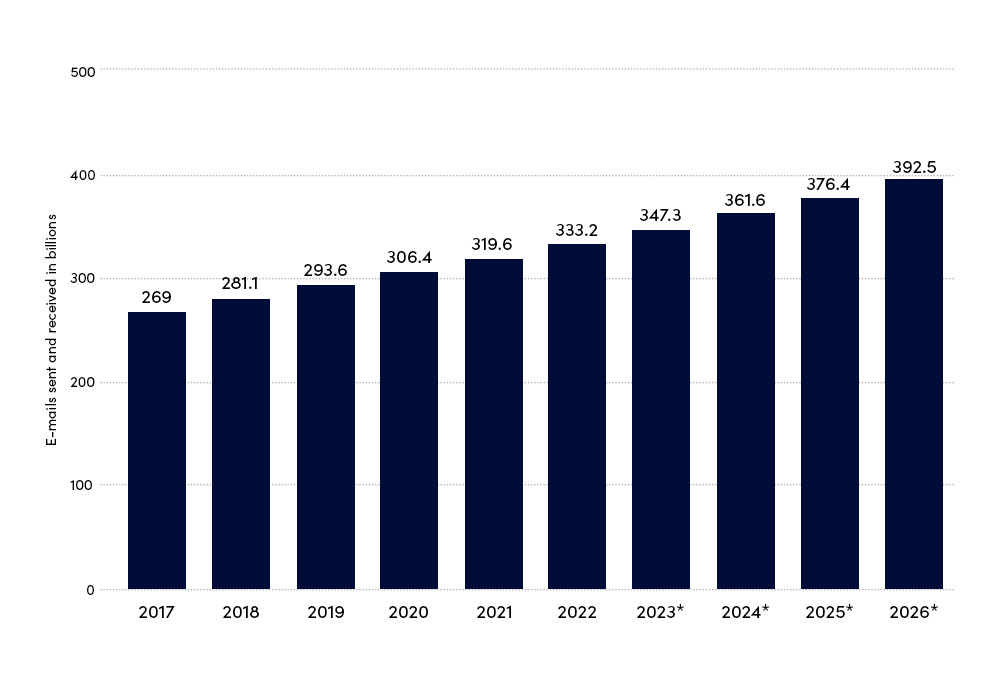 Data Source: Statista Website
Now, let's reveal how AI-powered emailing can help you boost your efficiency.
If you are still managing your customer emails manually, your CRM or ERP system is lacking a great deal. So, let's get aware of how managing emails from generating AI can improve your sales & marketing capability and elevate your efficiency level.
How AI-Powered Emailing Boosts Your Efficiency?
Draft Customer Emails with AI
Leveraging emails from generative AI helps your sales team to quickly write and respond to their leads, prospects, or customers while saving time and effort. This will help them to focus more on conversions instead of indulging more in manually writing emails to each customer.
With LionO360 CRM, empower your sales team to utilize AI-generated emails wherein they do not need to input the customer email ID and sales executive's name as our CRM software does everything. All they need is to define the purpose of the email, and our AI-based email generator generates a seamless email from scratch in just a few seconds.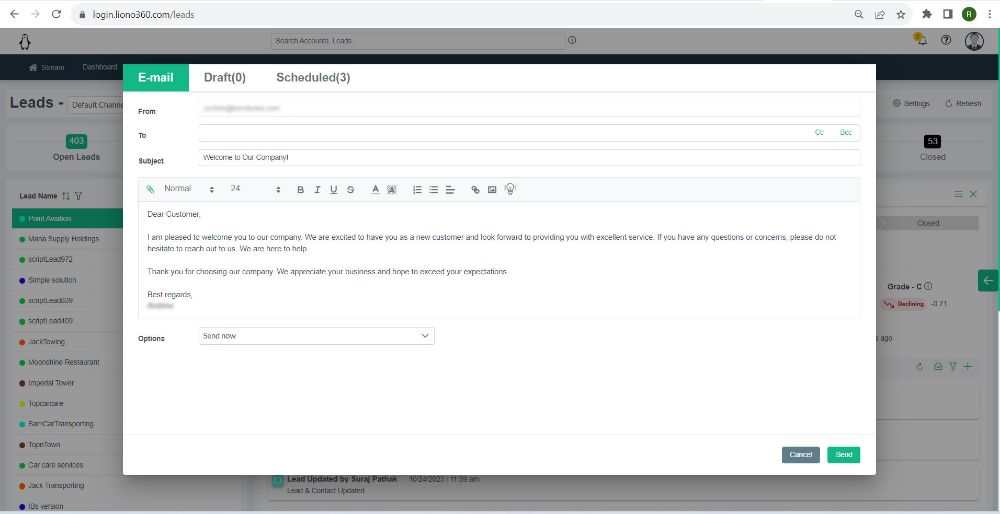 So, you can see, this way can help your sales team to improve their overall productivity as they can contribute their sales efforts in achieving their sales goals instead of focusing on writing emails to customers.
Improved Consistency
For any organization maintaining a brand reputation in the eyes of their customers is crucial indeed. When you equip your sales team with a tool that writes AI-generated emails, it ensures consistency in communication with your customers as maintaining a uniform tone and language style can help you build a coherent brand image.
With LionO360's generative AI, you get refined emails with correct grammar, punctuation, and spelling. This ensures that you are sending highly professional, concise, and purposeful emails to your customers with reduced time and effort ensuring senders credibility.
Focus More on Conversions
Generative AI can also help you create personalized emails by analyzing your customers, leads, or prospects data. You do not even need to include the sender's email as it can be automatically fetched from the CRM system.
Considering the past and relevant impressions, generative AI can help you create emails engaging and relating to customers' concerns or situations making your customer interaction more engaging and fruitful. This helps your sales team to focus more on converting the leads into customers or driving more business from your existing customer base.
Increase Workforce Productivity
Initially, you can handle manually typing emails to your customer along with responding and follow-ups. Once you start gaining a large volume of customer base, it becomes challenging and tiresome for your sales team to manually write emails to your customers and as a result, it can impact your business line.
Thus, it's time to empower your workforce with a CRM solution equipped with the generative AI email writing tool. This will help your sales workforce to contribute maximum time in sales generation instead of manually handling customer emails.
Here, LionO360's Generative AI facilitation can increase your salespeople's capability by enabling them to generate personalized customer emails to streamline communication and drive quick response/follow-up with your customers help you ensure improved productivity and boost your entire sales efficiency.
Here is How Can LionO360's AI-Powered Emailing Help You Boost Your Efficiency?
At LionOBytes, we help businesses strengthen their sales capabilities and boost their efficiency with Generative AI for email writing to your leads, prospects, and customers. Now, your sales team doesn't need to spend time drafting customer emails whether while interacting with customers for the very first time, responding the inline customers, or ensuring follow-ups.
Leveraging LionO360 CRM, you can generate customer emails whether in a formal tone or casual tone. All you need to do is write the objective or purpose of the email and the rest of the thing will be done by our software from fetching the sales representative's email ID to the representative's name in reference to the entire mail text that you want to convey to your customers.
Once written, you can either send the email instantly to your customer, save the same for later, or even schedule to send the email later. Thus, maximizing your sales workforce's capability while giving them liberty to communicate as per their customers' availability.
So, if you are willing to leverage the power of AI-generated emails and boost your business efficiency, connect with our experts, we can help you by uplifting your customer emailing capability.