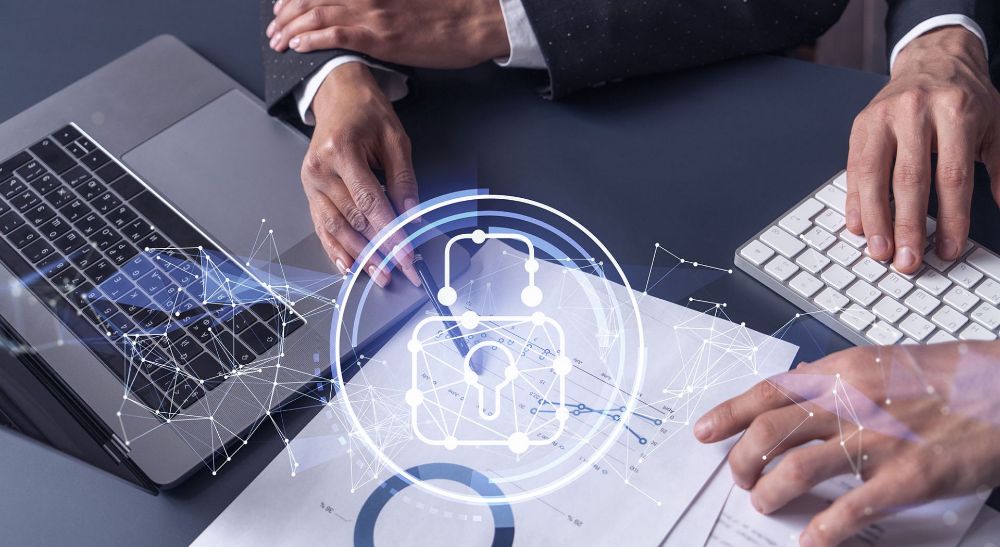 When it comes to cloud ERP implementation, the very first thing that rolls out in everyone's mind is data security. So, if you are planning to implement cloud ERP, having such a concern is obvious. However, choosing the cloud-based right ERP system associated with a trustworthy ERP partner can help you overcome your data security concern.
So, this blog will be focused on the security challenges of ERP models and best practices to imbibe while implementing an ERP system. Since your data is leveraged across your departments on cloud servers from sales & marketing to finance and warehousing and creates room for cyber attackers, thereby, it becomes crucial to apply security measure practices while implementing cloud ERP in your system.
Thus, whether you are already managing an existing ERP system or planning to implement a new one, considering security challenges and ways to overcome them can help you deploy a successful ERP system.
For your reference, with the emergence of AI (Artificial Intelligence) and IoT (Internet of Things), data security has become a major concern these days. The more high-end technology we leverage to transform our business, the more we need to imbibe security practices as well. So, it's time to uncover the ERP security challenges and best practices to embrace to ensure a secure and reliable ERP system.
ERP Security Challenges
Data Breaches
Your ERP system comprises a large volume of data that is valuable as well as sensitive from customer data to financial information to intellectual property, and likewise. There could be several reasons for data breaches in your ERP system. It could be due to vulnerabilities in your cloud-based system, establishing weak authentication, or not taking care of unauthorized access by external users.
Poor Access Control & Management
Enabling granular access control in your ERP system is essential to ensure that your workforce has adequate access to the data they need. Initially, managing these access controls could be quite seamless but once your organization starts growing and acquires several roles and responsibilities, it becomes challenging. Thus, improper access control can be a result of unauthorized access to the people in your organization.
Lack of Governance
Many organizations do not focus well on defining security and data access policies. In case they have defined somehow, they lack in enforcing them fully.
Misconception about security
Often, there is a misconception that on-premised ERP is more secure than cloud-based ERP deployment. As the on-premises ERP system provides more control over cloud ERP and due to this reason, the misconception took place. However, it's all about the practices to imbibe during your ERP implementation.
Continuously growing threat environment
With continuously increasing technological innovations and SaaS-based business solutions, cyber attackers are also evolving but most of the organizations are still unaware of and not getting serious about the system's security part.
Excess Customization
Too much customization or integration can invite vulnerability in your system. However, relying on cloud ERP and choosing the right ERP implementation partner along with streamlined support can always help you overcome this security challenge.
Frequent Software Updates
Frequent software updates can enrich your ERP software's quality and functional capability but can also introduce the opportunity for security challenges in the case of on-premised ERP. Again, deploying the cloud ERP system can help you eliminate this security challenge.
Thus, after getting awareness of ERP security challenges, it's time to turn this blog's flow toward best practices to consider preventing security challenges enabling your system to work smoothly and efficiently.
Best Practices to Overcome ERP Security Challenges
To overcome the above-mentioned security challenges, here are the best considerable practices to beat security challenges. Let's perceive them one by one.
Prepare your ERP strategy
Prepare an ERP strategy that better defines your project. Documenting an extensive ERP strategy can help you overcome all your security challenges. The cornerstone thing is to focus on strong governance policies and how well they are enforced in your organization. Moreover, emphasize whether your cloud ERP provider contributes to your ERP security part.
Define your ERP feature limitations
For different organizations and distinct business practices, your ERP features and functional requirements may vary. Hence, it is better to understand your requirement in terms of a specific set of features as features lying unused may remain unfocused in terms of security part.
Further, you can always leverage the in-built security layers of your ERP along with additional layers if you are taking recourse. However, choosing the right cloud ERP implementation provider can ensure better in-built security of your ERP system.
Effective governance
Enforcing poor governance may not help you ensure data and system security. Therefore, adhering to effective governance is imperative. For your understanding, effective governance is all about revealing what data is valuable to you and who should have access to that vital data. Here, role-based access to data with permission control is crucial indeed to drive data security across your database.
Greater access control
Whether your ERP system is on-premised or cloud-based, you need to have adequate control over access to your sensitive data. It is important to review your employees' access permissions whenever they get promoted or switch to new jobs and responsibilities within your organization.
It is inevitable to understand that enabling remote access to on-premised ERP could be security compromised if not configured through VPN (Virtual Private Network).
Software updates
If you are using on-premised ERP, immediately installing updates is required. If you miss or delay upgrading your system, you may leave room for attackers. However, one of the optimal benefits of cloud-based ERP is – you do need to be worried about your system upgrade as your cloud ERP provider takes responsibility for your system upgrade.
Integration & customization
Keeping an eye on how your ERP provider takes care of the security part while performing customization is a must-have deal. Also, ask your cloud ERP provider to leverage the latest encryption algorithms. This can help you secure your customizations.
This can also help you ensure secure data flow or transmission when you process data between your cloud ERP system and integrated third-party software or applications such as QuickBooks, Nop Commerce, Dropbox, and more.
Constant security monitoring
You cannot control the steadily growing threat environment, but you can prevent your ERP system from being hacked. So, make sure that you adopt constant security monitoring practices for your ERP system to ensure that your ERP system is safe and protected from cyber attackers. Again, hiring a worthwhile cloud ERP implementation provider can help you with this.
End-user training
Post ERP system implementation, proving end-user training can help you protect your ERP system from redundant queries or data experimenting. So, make sure that your ERP provider will be providing sufficient end-user training to understand and better leverage the newly implemented ERP system.
Apart from this, providing basic cyber security training to your employees can help you add extra security layers to your system. The reason behind providing such training to your workforce is just to make them vigilant about cyber-attacks and malware distribution. And, usually, trained people make fewer mistakes than untrained ones.
How LionOBytes Provides Secured Cloud ERP
LionOBytes offers highly secured, reliable, and feature-enriched LionO360 Cloud ERP built for small to medium-scale businesses. We comprise best security practices in terms of governance, risk control, and more. We take responsibility for upgrading your system automatically whenever we come up with new feature releases or functional upgrades.
Our support team is always ready to serve and help you overcome security challenges in the best possible way. To know more or to understand how LionO60's security practices can help you overcome your security challenges, contact us today. We are here to provide you with the best security-equipped ERP solution for your business.