Products / CRM / Features / Customer Service Management
Customer Service Management
Drive better customer service
Exceed your customer experience to uplift sales efficiency and higher productivity by leveraging LionO360 Customer Service module.

Case Management
Submit, track, and manage your customer cases helping to improve your customer service.

Ticket Management
Streamline ticket management, distribution, and assignment to resolve customer issues faster.

Web to Case Form
Easily connect forms on your website to the CRM.

Notify Customer
Learn and engage with customers and improve interactions.

Ticket Assignments
Allow internal teams to prioritize customers.

Activity Stream
Streamline communications within the social portal.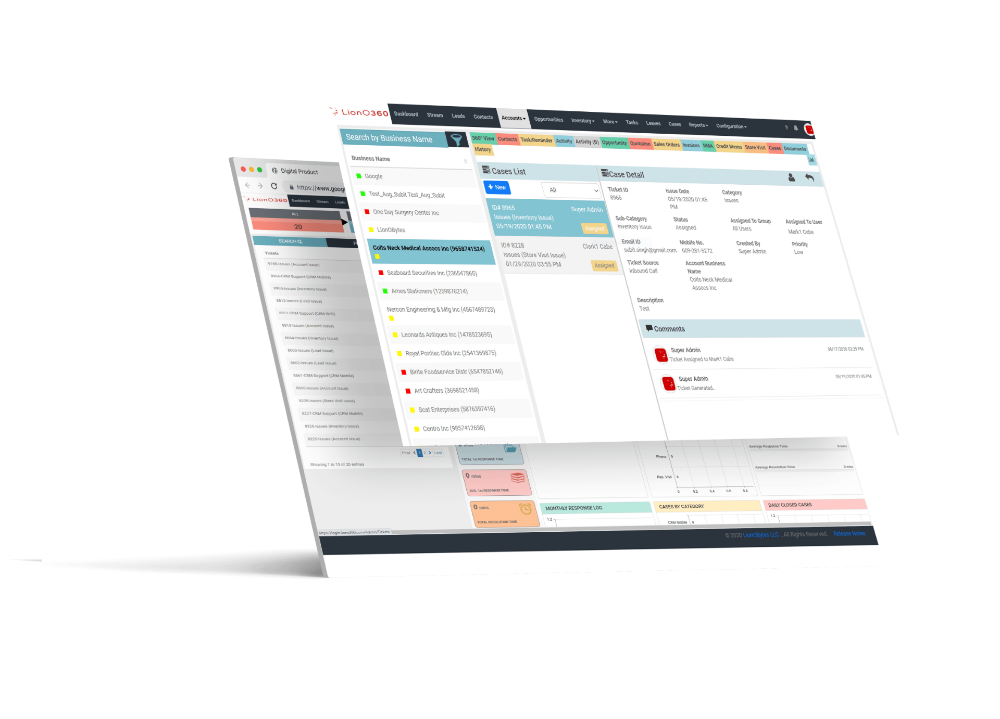 Track support tickets, analyze feedback, and meet your customers' needs
LionO360 CRM for small businesses provides you with the critical insights needed to drive your business forward. All account info, including pending opportunities, order history, scheduled outreach, and documents, is accessible in one place. Document conversations with notes entered by your employees or via automated audio recordings.
---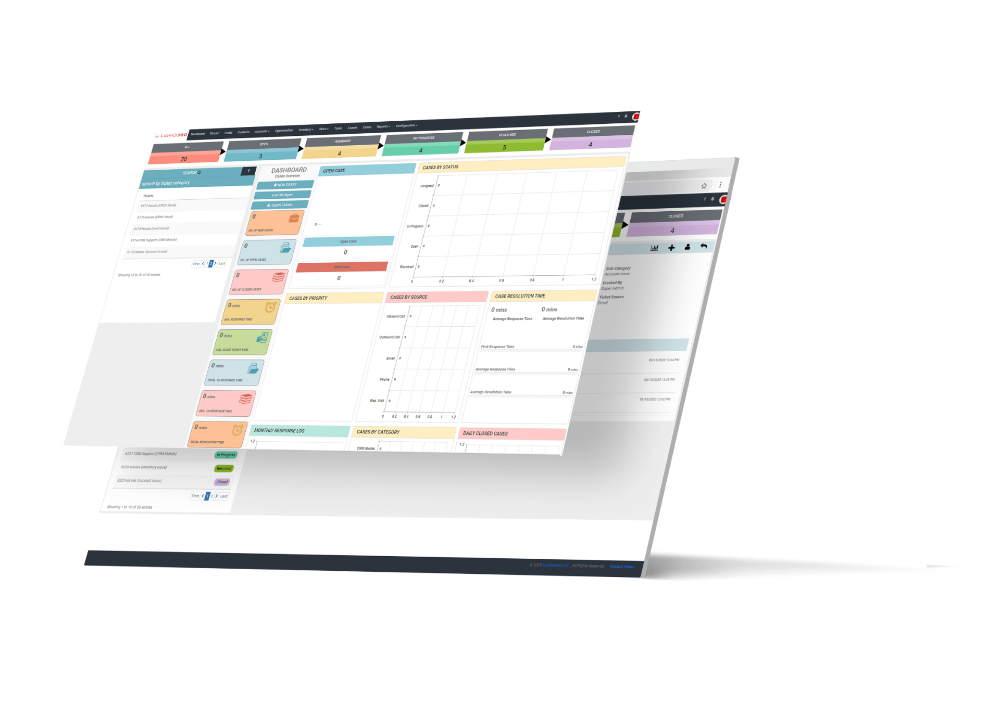 Excellent customer service
Customer satisfaction and how your business handles customer service define your product or service. LionO360's customer service ticketing system allows your team to prioritize customers where managers can assign accounts to team members, overall improving efficiency with automated agent activity.
---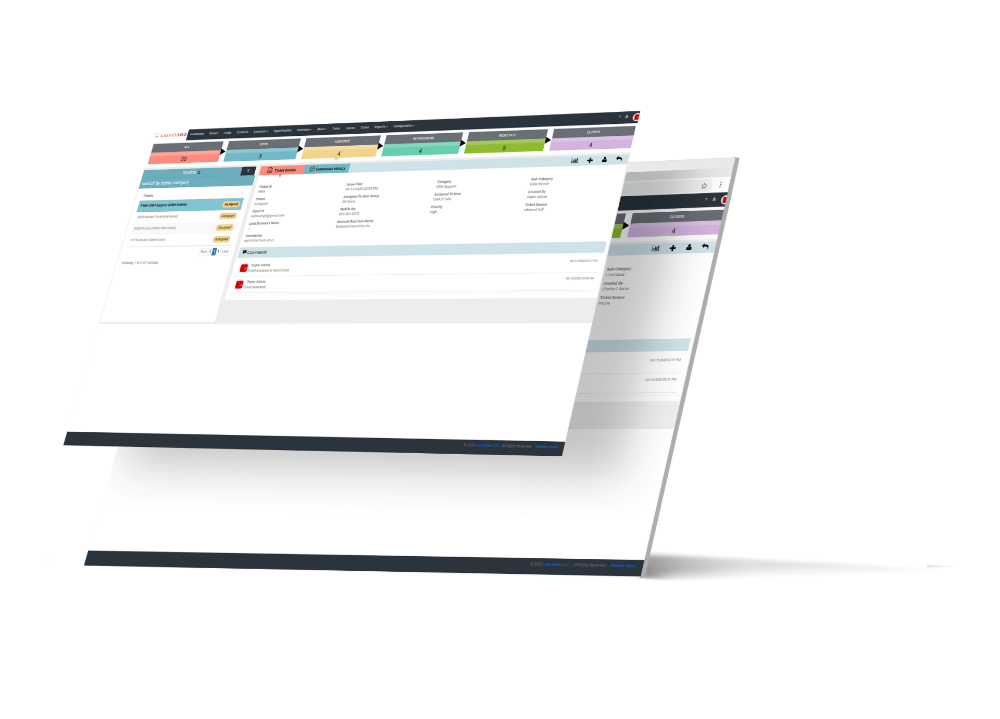 Organized tickets and cases
Organize all tickets and cases to ensure all issues are resolved promptly with recorded notes. A representative will tend to every customer ticket or case. Resolve tickets faster by prioritizing tickets and assigning account managers to specific customers.
Boost Productivity Today with LionO360 CRM
The first complete business management software for small business with CRM, Inventory, Accounting, and much more. Customer service management just got a whole lot easier.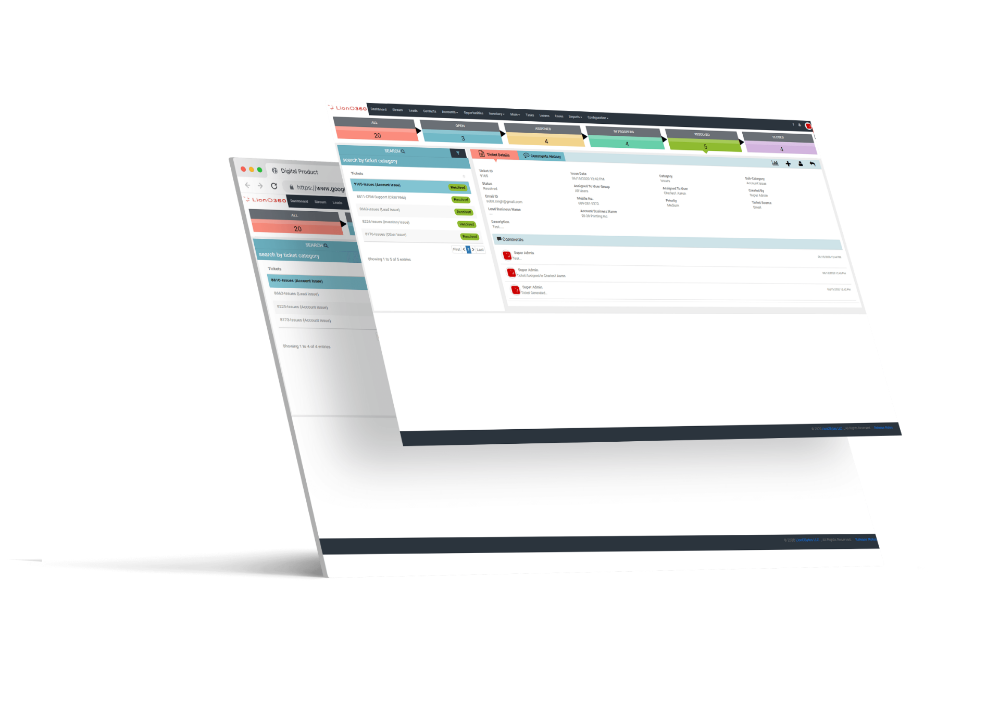 Real-time feedback
LionO360 provides the functionality you need to let your customers be heard. Gather and analyze customer feedback beyond just bug fixes. Customizable dashboards and reports let you analyze these insights to adapt your product and service offerings to meet their needs – before your competitors do.
---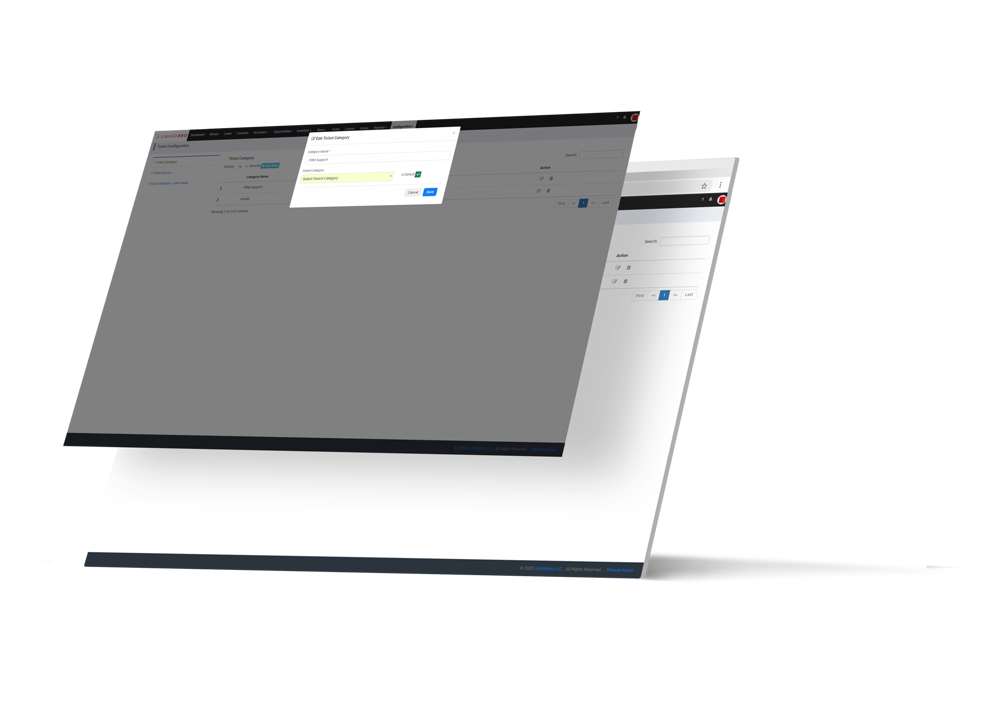 Complete visibility on tickets and support cases
The LionO360 ticketing system enables you to track support tickets, bug fixes, feature requests, and other critical customer inputs. Quickly assign tickets to users, view open tickets, and report on cases by metrics such as category, source, and solution time. You can easily configure the system to meet the unique requirements of your business.
---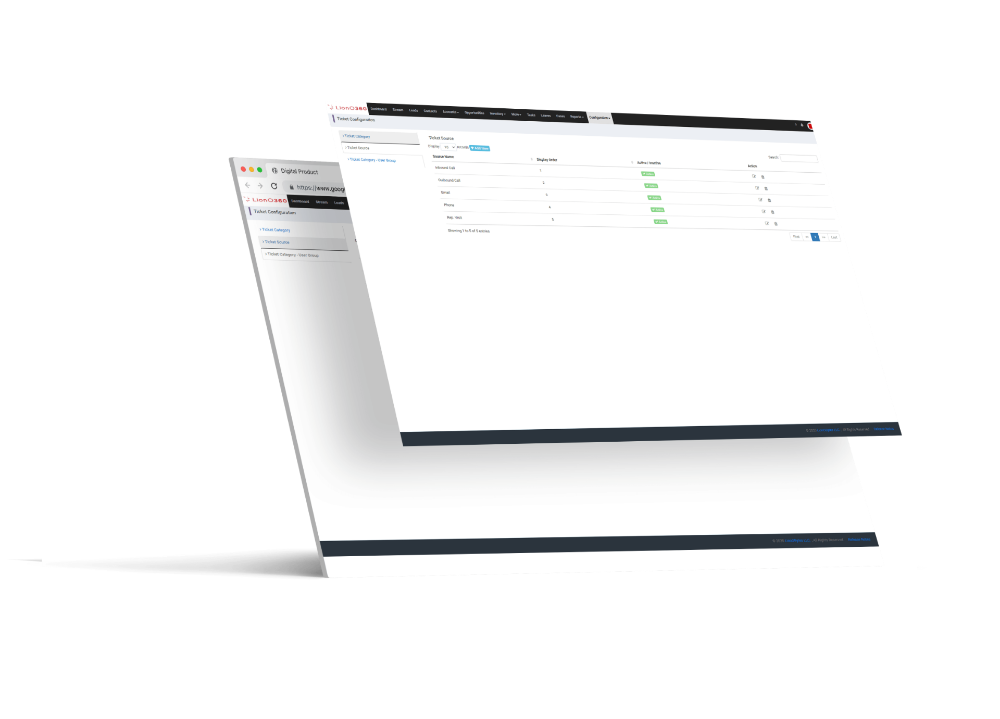 Agent and account manager assignment
Assign one team member to a specific customer ticket, so there's no confusion in resolving the customer's issue. This team member will be an expert in the customer ticket and handle the solution effectively.
---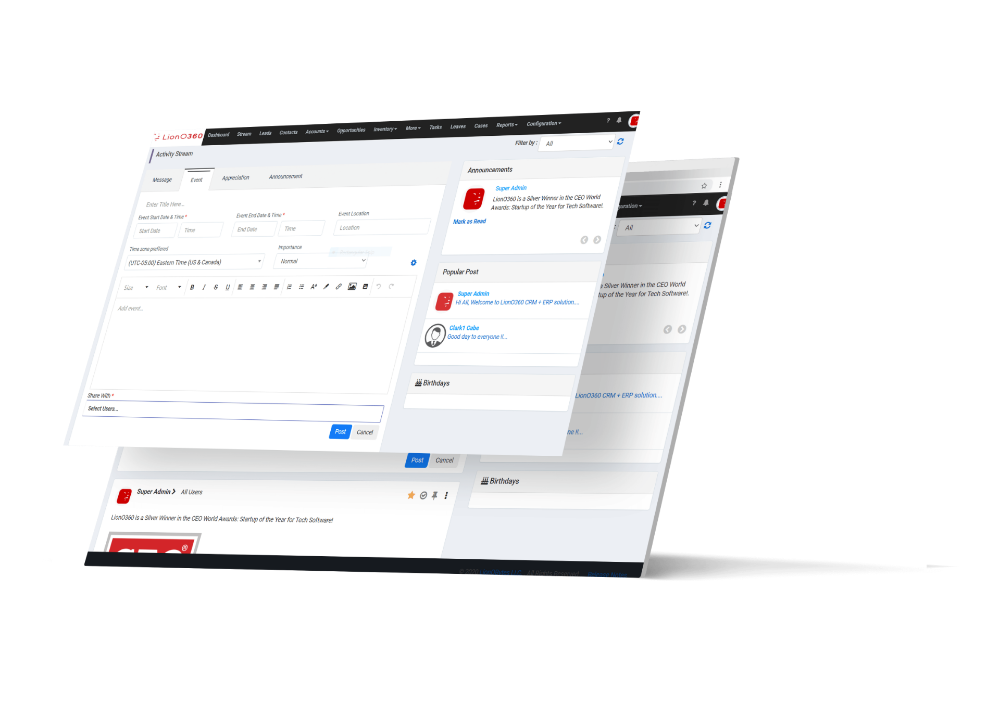 Activity stream connection
You can assign tasks to specific team members to ensure customer support requests are responded to promptly. Once tasks are completed, they're visible in the activity stream. By viewing an account record, you can see the flow of activities in real time, such as when they were last contacted, orders placed, and when products were shipped.
---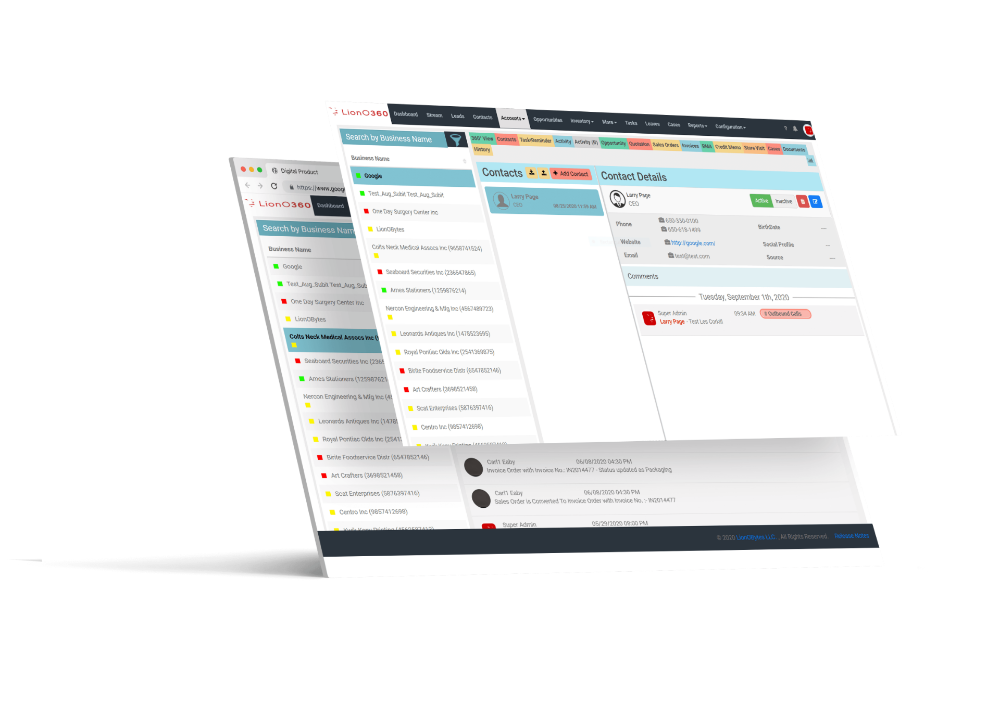 Priority Case Classification
Manage the most critical customer service tickets first to ensure you keep your clients satisfied. Prioritize the ticket raised by the customer, issue, or however you see fit for your business.
---